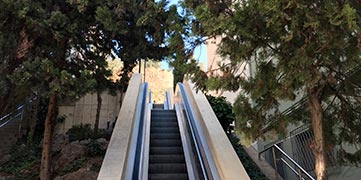 Acces to Park Güell top area
To reach the top area of the Park Guell, metro line 3 station Vallcarca..
Climb up the streets by escalator to reach Guell Park at the "3 crosses" and enjoy impressive views of Barcelona.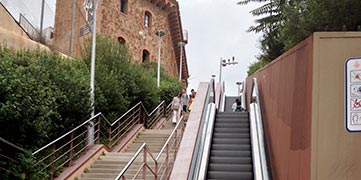 Access to monumental park area
To access the monumental zone of Parc Guell ; metro line 3 Lesseps station. Take "Santuari de Sant Josep de la Muntanya" Avenue, where escalators will take you straight to the entrance to Guell Park.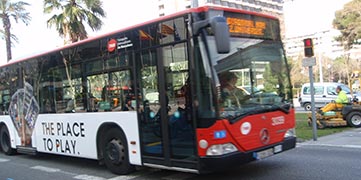 Bus route to Parc Guell
Among the buses that lead to Parc Guell, line 24 passes through Passeig de Gracia from Plaça Catalunya and drops you off at the foot of Parc Guell. Line 92, which crosses a large part of Barcelona, passes in front of the Sagrada Familia and drops you off in front of Parc Guell.
Parc Guell tickets :
The access to the Park Guell can be done individually, with a guide, on a private tour or in organised groups.
- The price of individual ticket to the park is €10 ; unlimited tour of the park
- The guided park tour ticket is 22 € ; available in French, Spanish, English or Catalan, it includes a guided tour for up to 25 people of the most important sites in Guell Park.
- The price of the private tour is €50 ; available in the same languages as the guided tour, the itinerary proposed by the private tour is valid for small groups of 2 to 6 people.
- Entries for organised groups of 10 to 30 people are made online after creating an account.
Parc Guell opening hours :
Barcelona's Parc Guell is open every day from Monday to Sunday from 9:30am to 5:30pm.
Parc Guell adress :
The Parc Guell is located at Carrer d'Olot 08024 Barcelona , in the Gracia quarter.
barcelona park guell metro :
Barcelona's Parc Guell can be reached from Lesseps or Vallcarca metro stations on line 3