Direct access from the Barcelona metro line 5 :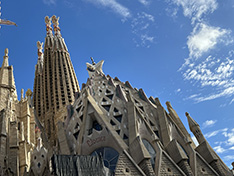 Sagrada Familia
An incredible building of monumental proportions and meticulous decoration, the Sagrada Familia, Barcelona's emblematic and most visited monument, is one of Antoni Gaudi's most impressive architectural works, still in progress today.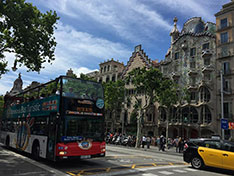 Barcelona Passeig de Gracia
The Paseo de Gracia (Passeig de Gracia), Barcelona's fashion boulevard where monuments, exceptional architecture, restaurants and boutiques of famous brands such as Hermés, Chanel or Diesel share the 1.5 kilometres that connect Plaça Catalunya to the Gracia district.
Quick visit of the Passeig de Gracia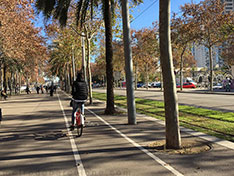 Barcelona Diagonal Avenue
Leisure, business, entertainment, curiosities and rest, Barcelona's Avenida Diagonal, one of the most important thoroughfares in Barcelona, which stretches from one end of the city to the other, from the Forum to the university zone, offers access to many of Barcelona's unmissable sites.
Visit Barcelona From Diagonal avenue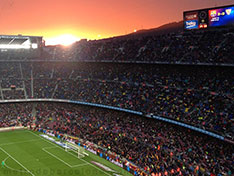 Barcelona Camp Nou stadium
Come and experience the Barça atmosphere at the Camp Nou. With a capacity of more than 99,000 seats, the FC Barcelona's stadium, located in Les Corts neighbourhood, is one of the largest stadiums in Europe.
Barcelona Camp Nou preview
Online tickets to Camp Nou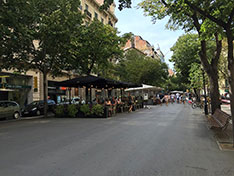 Barcelona Rambla Cataluña
Littered with shops, restaurants and terraces, the Rambla Catalunya is a pleasant stroll between Avenida Diagonal and Plaça Catalunya.
Barcelona Rambla Cataluña quick trip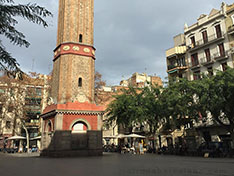 District of Gracia
What was once a beautiful little village on the outskirts of Barcelona connected to the city by the Passeig de Gracia, Gracia is nowadays one of the most visited districts of Barcelona, very famous for its festivities, the atmosphere, as well as the Guell Park located on the heights of Gracia.
Barcelona Gracia virtual tour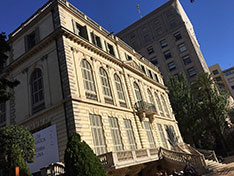 El Palau Robert
Specialising in exhibitions dedicated to Catalan culture, the Palau Robert is first and foremost the home of the Catalan Tourist Office. Indoor events, outdoor activities; the gardens of the Palau Robert occasionally offer some outdoor festivities.
Address : Passeig de Gràcia, 107, 08008 Barcelona