Barcelona's metro lines run 7 days a week, from Monday to Sunday. It opens every day from 5 am to midnight or 2 am depending on the day and event, and runs non-stop from Saturday to Sunday.
Monday to Thursday - Sunday + holidays
From 5 a.m. to midnight
Fridays and holiday eves
From 5 a.m. to 2 a.m.
On Saturdays
From 5 a.m. to Sunday evening
From the ticket valid for 1 single trip to the 30-day card, the wide range of tickets to visit Barcelona by metro can be adapted to any type of stay in the Catalan capital.
T-casual : 10 travels
T-familiar : 8 travels
T-Grup : 70 travels
T-usual : 1 month

T-Dia unlimited 1 day
Hola 2 unlimited 2 days
Hola 3 unlimited 3 days
Hola 4 unlimited 4 days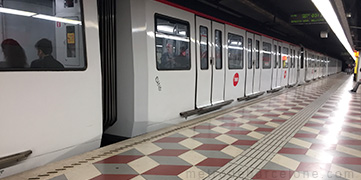 Metro stations list
Barcelona metro stations list from A to Z, lines 1 to 12.
To get from Barcelona airport to the centre :
- Line 9 to Torrassa then L1 to Catalunya for example ;
- Line 9 to Collblanc, and line 5 to Diagonal
To go from Barcelona cruise port to the city centre :
- Blue bus to the Ramblas then L3 to Catalunya for example, to reach the attractions around Plaça Catalunya..