Access from Barcelona metro line 8 :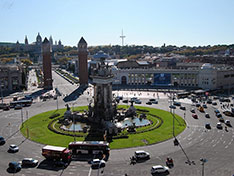 Barcelona Plaza España
Located at the access point that leads to the hills of Barcelona, the Plaça Espanya (Spanish Steps) opens the doors of Montjuic to you. A huge roundabout that acts as a communication axis between several of Barcelona's main avenues and leads to the city's old bullring.
Barcelona plaza España virtual tour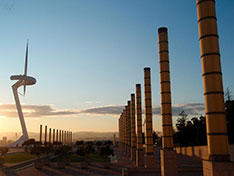 Barcelona Montjuic hill
From its 184-metre height, which houses the remains of the 1992 Olympic Games as well as beautiful parks and museums, Montjuic Hill is one of Barcelona's most visited tourist sites, offering exceptional panoramic views.
Walk on Montjuic heights
Up to the top by cable car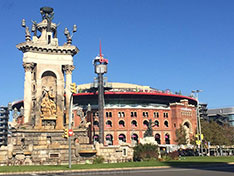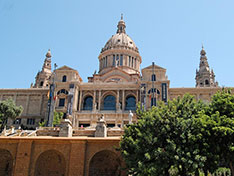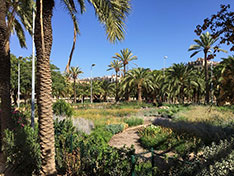 Barcelona Joan Miró Park
Located at the foot of Barcelona's bullring, the Joan Miro Park, formerly known as the Escorxador Park, is made up of a wide variety of vegetation on different floors; it is the ideal place to take a break before setting off on the Montjuic hill
Paseo virtual por el parque Joan Miró de Barcelona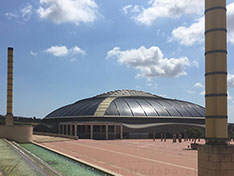 Palau Sant Jordi Barcelona
The Palau Sant Jordi was one of the sports venues built for the 1992 Barcelona Olympic Games. Nowadays, The Montjuic multipurpose hall is often used as a concert and performance hall.
Palau Sant Jordi Barcelona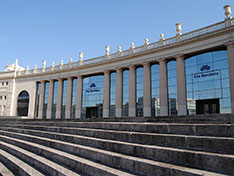 FIRA Barcelona Montjuic
All year round, congresses, fairs, conferences, shows, events, and many international trade exhibitions are held at the Fira de Barcelona; FIRA de Barcelona the exhibition centre of Barcelona.
Avinguda Reina Maria Cristina - 1 - Barcelona Plaça Espanya