Access from Barcelona metro line 1 :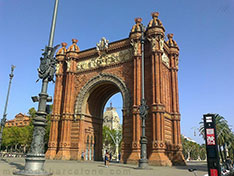 Barcelona Triumphal Arch
Barcelona's triumphal arch, a monument entirely designed in red brick by Josep Vilaseca i Casanovas, symbolizes the gate that led to the Universal Exhibition of 1888. Nowadays, this gate gives you access to the Parc de la Ciutadella.
Barcelona triumphal arch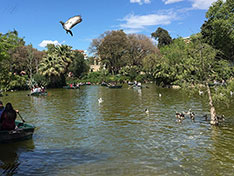 Barcelona Ciutadella park
For a guaranteed change of scenery in the heart of Barcelona, the 17 hectares of the Parc de la Ciutadella, strewn with museums, gardens, and the artificial lake of the Arc de Triomf at the Barcelona Zoo, offer beautiful walks to reach the Olympic port.
virtual walk in the Ciutadella Park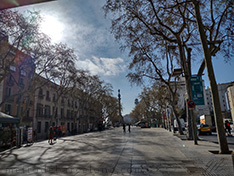 Barcelona Rambla
Meeting point between Plaça Catalunya and Port Vell, the Rambla de Barcelona (Las Ramblas) represents the 2 kilometres of the city's busiest pedestrian avenues, where artists, painters and musicians give the greatest satisfaction to tourists.
Virtual tour of the Ramblas of Barcelona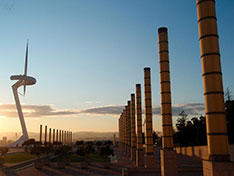 Barcelona Montjuic hill
From its 184 meters of altitude that inhabits the remains of the 1992 Olympic Games, beautiful parks and museums, the Montjuic hill is one of the most visited tourist sites in Barcelona. Situated in the southwest of the city, the 184 meters of greenery offer breathtaking panoramic views.
Walk on the 184 meters of height of Montjuic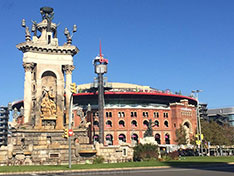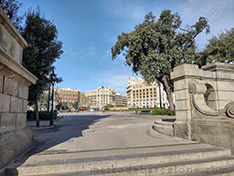 Barcelona Plaza Cataluña
As a very important intersection of the city, and a rallying point served by a large number of transports, Plaça Catalunya is one of the most recommended meeting points to get to the centre of Barcelona, where the pigeons have established their headquarters.
More about Plaça Catalunya in Barcelona