Access from Barcelona metro line 3 :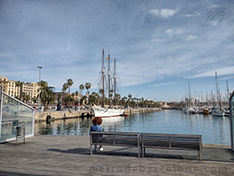 Barcelona port Vell
Port Vell, (one of Barcelona's marinas) is the oldest port in the city.
Bordered by a very pleasant promenade that stretches from the Christopher Columbus monument to Barceloneta, walk along the Port Vell to get to the beaches of Barcelona.
Virtual trip to the old port of Barcelona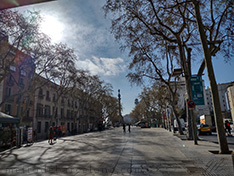 Barcelona Rambla
Meeting point between Plaça Catalunya and Port Vell, the Rambla de Barcelona (Las Ramblas) represents the 2 kilometres of the city's busiest pedestrian avenues, where artists, painters and musicians give the greatest satisfaction to tourists.
Virtual tour of the Ramblas of Barcelona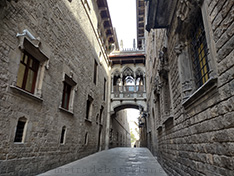 Barcelona Gothic Quarter
A maze of alleys located between the Raval and the Born, where museums, churches, Roman vestigations and architecture retrace the history of Barcelona's oldest district that stretches along the Ramblas from the old port to the Plaza Cataluña.
Virtual walk in the Gothic Quarter of Barcelona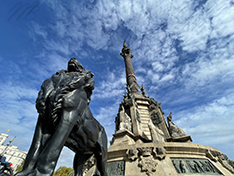 Barcelona Columbus monument
Climb to the top of the monument erected in memory of the famous navigator Christopher Columbus, which is located between the end of the Ramblas and the swing bridge of the city's old port, and enjoy an exceptional panoramic view of Barcelona.
Barcelona Christopher Columbus watchtower photos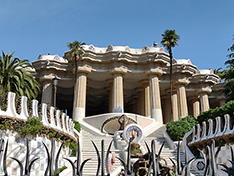 Barcelona Güell Park
Classified as a UNESCO World Heritage Site since 1994, Parc Guell, one of the masterpieces of the famous Antoni Gaudi, is a huge garden divided into several floors littered with alleys, columns and magnificent mosaics; it is also the most visited park in Barcelona.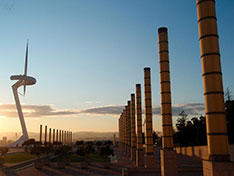 Barcelona Montjuic hill
From its 184 meters of altitude that inhabits the remains of the 1992 Olympic Games, beautiful parks and museums, the Montjuic hill is one of the most visited tourist sites in Barcelona. Situated in the southwest of the city, the 184 meters of greenery offer breathtaking panoramic views.
Walk on the 184 meters of height of Montjuic