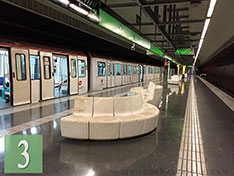 Barcelona metro line 3
Zona Universitària - Trinitat Nova
The line 3 of the Barcelona metro consists of 26 stations that connect with the lines 1, 2, 4, 5, 6, 7, 9 and 11 of the metro, lines T1, T2 and T3 of the tramway, and the Montjuic funicular and cable car.
Barcelona metro line 3 under renovation
For renovations, metro line 3 traffic at Liceu and Drassanes stations will be disrupted.
- Between 11 and 19 July, the metro will not stop at the Liceu station in the direction of Zona Universitària ; at the same Liceu station, the metro will not stop in the direction of Trinitat Nova between 20 July and 31 July.
The V13 and 59 buses are an alternative way to travel between Catalunya, Liceu and Drassanes.
- In a second time, from 1 to 17 August, the line 3 will operate from Zona Universitària to Paral-lel and from Liceu to Trinitat Nova, but the traffic between Paral-lel and Liceu metro stations will be interrupted ;
Bus lines D20, H14, V13 and 59 can be used as an alternative to reach the Paral-lel and Liceu metro stations.


Through the line 3
Via the Barcelona metro line 3 (green) you can, among other things, get off at "Lesseps" to reach the very famous Guell Park, as well as the "Drassanes" station which leads to many tourist sites such as the Rambla, the old port, the viewpoint of Colon, and many others.
Unlimited travel passes including Barcelona metro, available online.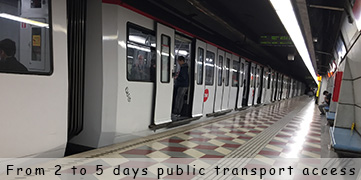 Hola Barcelona card
Hola cards, unlimited access to metro, bus (tmb), tram, Montjuic funicular and trains (zone 1), from 2 to 5 consecutive days, with access to airport terminals.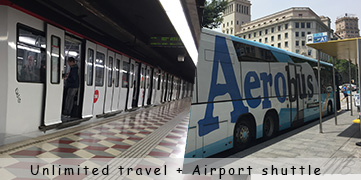 Barcelona transport pass
A package that includes the airport shuttle, unlimited use of public transport for up to 5 days, an audio guide to the city and 10% discount on many attractions.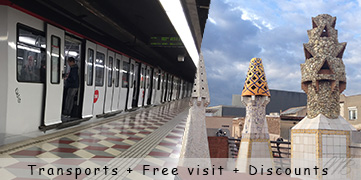 Barcelona Card
In addition to unlimited travel on public transport, this pass offers free, discounted and skip-the-line entry to many of Barcelona's tourist attractions...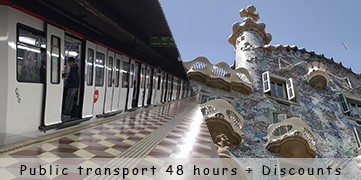 Barcelona Express Card
Perfect for a weekend in Barcelona, this package offers unlimited travel on public transport, as well as impressive discounts on many attractions.