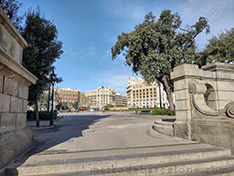 Barcelona Plaza Cataluña
As a very important intersection of the city, and a rallying point served by a large number of transports, Plaça Catalunya is one of the most recommended meeting points to get to the centre of Barcelona, where the pigeons have established their headquarters.
More about Plaça Catalunya in Barcelona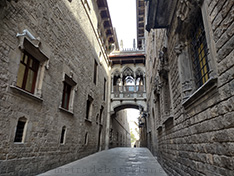 Barcelona Gothic Quarter
A maze of alleys located between the Raval and the Born, where museums, churches, Roman vestigations and architecture retrace the history of Barcelona's oldest district that stretches along the Ramblas from the old port to the Plaza Cataluña.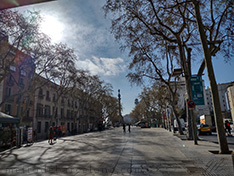 Barcelona Rambla
Meeting point between Plaça Catalunya and Port Vell, the Rambla de Barcelona (Las Ramblas) represents the 2 kilometres of the city's busiest pedestrian avenues, where artists, painters and musicians give the greatest satisfaction to tourists.
Virtual tour of the Ramblas of Barcelona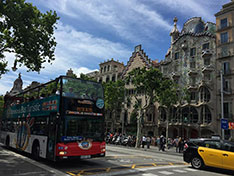 Barcelona Passeig de Gracia
The Paseo de Gracia (Passeig de Gracia), Barcelona's fashion boulevard where monuments, exceptional architecture, restaurants and boutiques of famous brands such as Hermés, Chanel or Diesel share the 1.5 kilometres that connect Plaça Catalunya to the Gracia district.
Quick visit of the Passeig de Gracia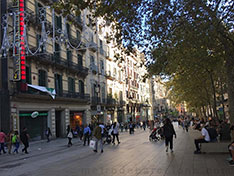 Puerta del Angel
Located between Plaça Catalunya and Barcelona Cathedral, la puerta del angel, a pedestrian avenue littered with shops and craftsmen's stalls, leads us to many alleys and squares.
Metro Plaça Catalunya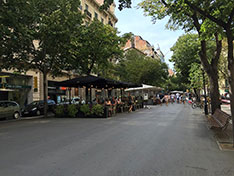 Barcelona Rambla Cataluña
Littered with shops, restaurants and terraces, the Rambla Catalunya is a pleasant stroll between Avenida Diagonal and Plaça Catalunya.
Barcelona Rambla Cataluña quick trip