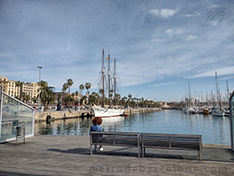 Barcelona port Vell
Port Vell, (one of Barcelona's marinas) is the oldest port in the city.
Bordered by a very pleasant promenade that stretches from the Christopher Columbus monument to Barceloneta, walk along the Port Vell to get to the beaches of Barcelona.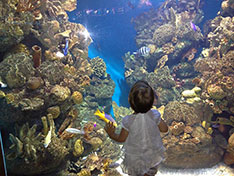 Barcelona aquarium
The hundreds of species that share the Barcelona Aquarium in their most faithfully represented marine environment take you to the depths of the most fascinating oceans to discover a world as magical as it is mysterious.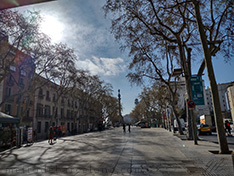 Barcelona Rambla
Meeting point between Plaça Catalunya and Port Vell, the Rambla de Barcelona (Las Ramblas) represents the 2 kilometres of the city's busiest pedestrian avenues, where artists, painters and musicians give the greatest satisfaction to tourists.
Virtual tour of the Ramblas of Barcelona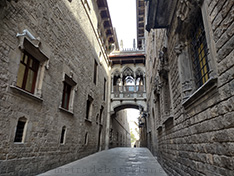 Barcelona Gothic Quarter
A maze of alleys located between the Raval and the Born, where museums, churches, Roman vestigations and architecture retrace the history of Barcelona's oldest district that stretches along the Ramblas from the old port to the Plaza Cataluña.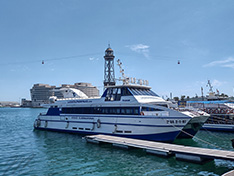 Barcelona Golondrinas
The Golondrinas in Barcelona's Port Vell offer sea trips to discover the main features of the port and the city's beaches, lasting 40 minutes or an hour and a half.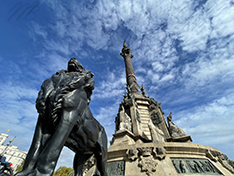 Barcelona Columbus monument
Climb to the top of the monument erected in memory of the famous navigator Christopher Columbus, which is located between the end of the Ramblas and the swing bridge of the city's old port, and enjoy an exceptional panoramic view of Barcelona.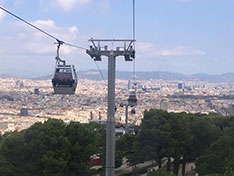 Teleferico de Montjuic
From the World Trade Center to the Sant Sebastià Tower, which gives access to the Barceloneta district and its beaches, or towards the Miramar Tower on the heights of the city, which allows you to go for a walk in the Montjuic Park, the cable car offers a tour of Barcelona from the sky.
Discover Barcelona from the sky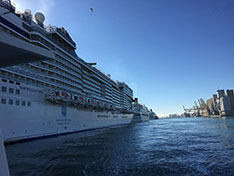 Puerto de cruceros de Barcelona
You have just made a stopover in Barcelona in the 4th largest cruise port in the world, and no matter where your boat is anchored, you will arrive at one of the 7 terminals located between the end of the Ramblas and Montjuic.
How to get to Barcelona cruise port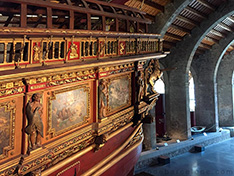 Maritime Museum of Barcelona
Located at the foot of Port Vell in the historic Drassanes building, the Maritime Museum of Barcelona, MMB (Museu Marítim de Barcelona) protects magnificent reproductions of boats from each period of history.
Barcelona's must-see museums