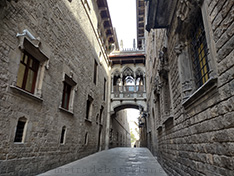 Gothic Quarter tour
Maze of alleys between Raval and Born where museums, churches, Roman vestigations and architecture retrace the history of Barcelona's oldest district that stretches along the Ramblas from the old port to the Plaza Cataluña.
Barcelona Gothic Quarter walk
Online tickets to guided tour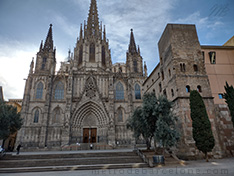 Barcelona Cathedral
The Metropolitan Basilica Cathedral of the Holy Cross and Saint Eulalie is permanently inhabited by 13 geese who protect the cloister. Mainly built between 1298 and 1450, the Gothic style cathedral has been classified as a national artistic historic monument since 1929.
Barcelona cathedral virtual tour
Raval district
Between the Gothic Quarter and Poble Sec, El Raval is a dynamic district where bars, shops, museums and monuments share the lively streets.
Barcelona Raval district tour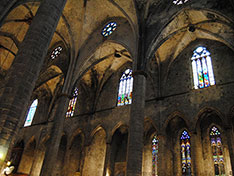 Santa Maria del Mar
A historical monument in Catalan Gothic style dedicated to the Virgin of the Sea, the church of Santa Maria del mar (Saint Mary of the Sea) is the result of a work to which the inhabitants of the Ribera district of Barcelona have contributed with great dedication.
Visita virtual de Santa Maria del Mar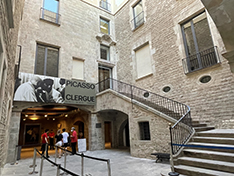 Barcelona Picasso museum
The Picasso Museum, a showcase of the works of Pablo Picasso where photos, ceramics and paintings on display retrace the evolution of one of the most famous Spanish artists. Located in the Born district, the Picasso museum is one of the most visited sites in Barcelona.
Picasso museum tickets online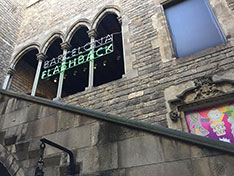 Barcelona History museum
Roman, medieval or middle-age, the Barcelona History Museum shares the different stages of the city's evolution. Scattered throughout the Catalan capital, the Barcelona History Museum in Plaça del Rei, (Gothic Quarter) is one of the most rewarding stops on the way.
How to get to Barcelona's best museums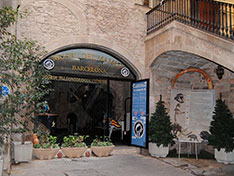 Mammoth Museum in Barcelona
The Mammoth Museum in Barcelona is a small museum but as pleasant as it is interesting for all lovers of the mammoth era .
Lista de los museos de Barcelona